Protect Kitchen and Bathroom Wall Corners From Damage & Enhance The Look At The Same Time
Do you have such troubles?
➤The wall corner seam becomes dirty and blackens due to dust.
➤Due to kitchen fumes, the walls around the kitchen countertop turn yellow and the kitchen fumes are difficult to clean.
➤The paint of the seam where the tub meets the wall and also the bathroom sink started to peel off due to getting wet.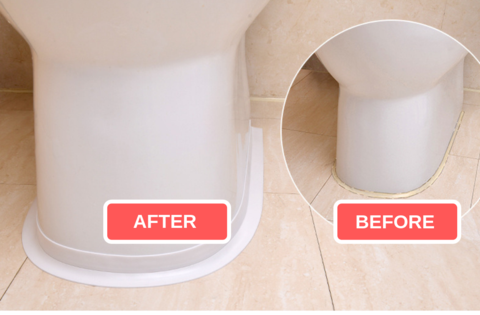 ⭐⭐⭐⭐⭐
"Love this product my husband used the tape of caulk around our bathtub, it worked !!! It looks great also, it was so easy to put around the tub. Buy this product if you are looking for caulk" – Archana
✔ Protection from Damage: Due to kitchen fumes and moisture, the wall gaps around the kitchen, sink and the bathroom gets damaged and turns dirty and black. Our Magic Caulk is designed to provide seamless caulking and flushes seal without the usual mess of caulking. It's made of premium waterproof, mould-proof PVC material that prevents water from entering seams and keeps your kitchen, sink, bathroom, and bathtub clean, tidy and mould free.
✔ Transform Dirty Corner to Enhanced One: Our Magic Caulk Tape not only will keep your bathroom, and kitchen clean and damage-free, but it will also enhance the look of your kitchen and bathroom with its colourful design.
✔ Stronger Stickiness: It has upgraded adhesion with waterproof and oilproof material, so the time of stickiness will be longer. Make sure the surface is clean and dry before you use it.
✔ Perfectly Works on Curved Edges: It can adhere to any angle and surface to form a tight seal. You can cut our tape as you need.
⭐⭐⭐⭐⭐
"This is amazing! I wanted to see if it really works and it does! I am so impressed. Our bathtub looks so clean now! Now my kids can play there 🙂 I did it by myself and I am so proud" – Sneha
Why You Will Love It?
Perfect Seal In Minutes: Creates a perfect seal that is waterproof, mould proof and oil proof. Professional and seamless.
Super Easy to Use: Just peel off the adhesive cover and stick it on. It's that easy.
Strong Self-Adhesive: Backed by strong adhesiveness for any surface.
Enhance The Look: Colourful printed design decorates your kitchen, and bathroom beautifully.
Versatile use: Seal off seams on your stove, sink, bathtub, toilet and more.
⭐⭐⭐⭐⭐
"This is great! We have uneven floors and regular caulk just sunk underneath the toilet and broke down. This was easy to apply. Just pull back the adhesive, stick it on, and heat up with a hairdryer for the adhesive to stick. Makes a really nice, clean look" – Ritushree
Technical Details
Item Weight 7.4 ounces
Color:As the picture shows
Size

 

:1.5 Inch Width x 10.5 Feet Length/126 inches
HIGHLIGHT
Anti-mold and bacteria
Dirt-resistant
Easy to clean
Last up to 5 years
Peel and stick application makes it easy to cover cracks, gaps, and damaged corners
Covers up spaces between the tiles
It is waterproof so it works well on tubs, tile, glass, and ceramic tile surfaces
Creates a moisture-resistant barrier around sinks and counters
Keeps dirt and debris from hiding under baseboards
Keeps food from getting between the stove and the counter
Forms a durable and watertight seal to prevent gross stuff from getting under the toilet
The mildew-resistant strip is perfect for sealing bathtubs, showers and wall trim
It can be applied over existing caulk as a finishing touch